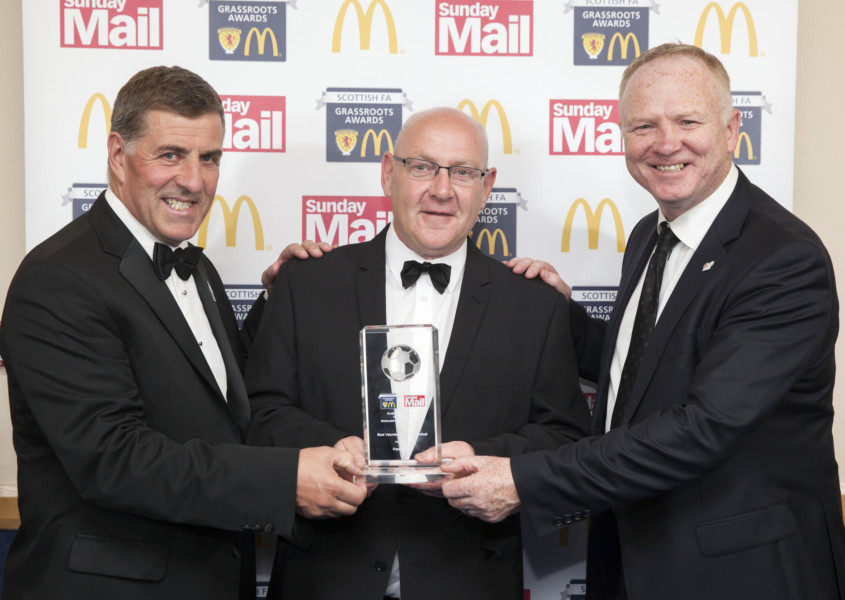 Loanhead Miners YFC's Peter Frame wins 'Best Volunteer in Youth Football 2015'
Written by  Harvey Nafpliotis
On Wednesday (29/09) I had the privilege of speaking to Scottish FA and McDonalds Grassroots Winner for "Best Volunteer in Youth Football 2015", Peter Frame. Now you could say that's a bit of a mouthful, but given the tremendous achievements of the man in question perhaps rather than being too long, the title doesn't do Peter justice!
Peter's involvement in grassroots football goes back more than 40 years. "I was actually involved with the forerunner to Loanhead, Eskdale" he said. "Once Eskdale was disbanded and Loanhead came about I continued to work with them, and I haven't stopped since!"
You might expect, and indeed understand, that after such a long time the level of enthusiasm may have diminished. With Peter however nothing could be further from the truth. Now responsible for the coordination of a plethora of youth leagues across the region as well the running and coaching of his own girls teams for Loanhead this is truly a man who lives and breathes grassroots football.
I asked Peter how he felt upon hearing he had received the award. "I felt ecstatic, but for me the most rewarding thing is seeing the smiles on the kid's faces" he said.
This answer alone tells its own story about what has motivated Peter to be involved with grassroots football for so long. Although he himself acknowledged that winning and competition are part of the game, for Peter the motive appears to be clearly to make sure that the players for whom he is responsible, is coaching or has coached, are enjoying what they are doing and some would argue that this is the true ethos of grassroots football.
Such an outstanding level of commitment may warrant the award on its own. However as Peter himself was keen to point out, the age bracket he looks after in terms of his activities falls somewhat out of the conventional.
"In one of my teams, the two wingers are both aged 84" he said. No, you read that correctly it does say eighty four. You see outside of coaching and coordinating youth football teams and players, Peter is also responsible for Loanhead's 'Walking Football' team. This form of football, in which running results in a free kick being given to the opposition, has become an increasingly popular way for the older generations to keep playing the sport we all love. "The team are going to be representing Scotland at a competition in Portugal" he added.
As you can see from the above it is perhaps unsurprising that Peter has claimed the award, it is a fantastic and in my opinion fully deserved recognition of a man who has devoted his life to the beautiful game. I'd once again like to extend my warmest congratulations to Peter and I hope that his passion for doing what he does continues for many years to come.