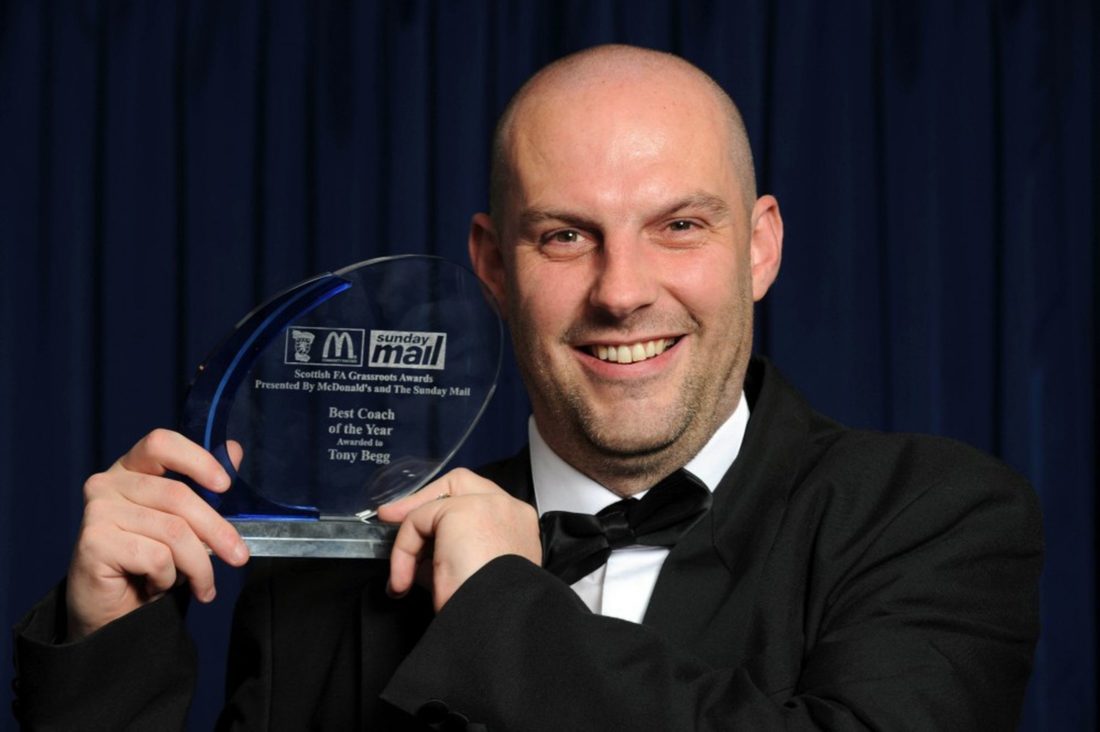 Tony Begg wins SFA Grassroots Awards Coach of the Year 2012
Tony Begg from Loanhead is celebrating after walking away with a top honour at the ninth Scottish FA Grassroots Awards, presented by McDonald's and the Sunday Mail.
Tony was named as Coach of the Year at the awards ceremony held at Hampden Park on the 27th September. The awards celebrated the efforts of the tireless volunteers who give their valuable time and effort to provide footballing opportunities in communities across Scotland.
Tony has been the driving force of Loanhead Miners YFC becoming the first Scottish FA Community Club in Midlothian. Currently managing the Under-9s side, Tony's coaching methods have seen positive improvements on the pitch as well as a great rapport with local parents due to his informative and fun-filled sessions. In addition to fundraising events, Tony also holds coaching sessions for the club coaches, allowing him to share his in-depth knowledge of the game.
Scottish legend and McDonald's Head of Scottish Football, Kenny Dalglish, praised Tony for his commitment to grassroots football in Scotland: "Football in communities is built on the dedication of people like Tony. Without the hard work and dedication of all the grassroots volunteers like Tony Scottish football simply wouldn't exist. What he has accomplished over the past year to help develop football in the community and at his club is truly worthy of the recognition Tony received at the awards ceremony.
Tony added: "It was an honour to receive my award from Kenny Dalglish and Craig Levein. The event was great fun and it was nice to meet all the other volunteers who dedicate so much time to grassroots football. It was very humbling to have won and hopefully my recognition will help raise the profile of the club throughout Scotland as well as my own."
Dalglish added: "As a long-term supporter of football in Scottish communities, McDonald's is proud to champion those that give up so much of their time, providing young footballers the opportunity to shine in a fun and friendly environment."
The ninth Scottish FA Grassroots Awards, presented by McDonald's and the Sunday Mail were held at Hampden Park on 27th September 2012. The awards cover ten categories including Best Volunteer in Youth Football, Best Community Football Club and McDonald's Franchisee Community Champion Award.
Over the last 10 years McDonald's has been committed to raising the standards of grassroots football, working alongside the Scottish FA. McDonald's now support over 4,500 grassroots clubs, have created over 2,000 new community coaches and have seen the launch of 1,800 new football teams. By 2014 McDonald's will work with the Scottish FA to encourage the participation of 13,000 new volunteers and 10,000 new coaches in grassroots football across Scotland.